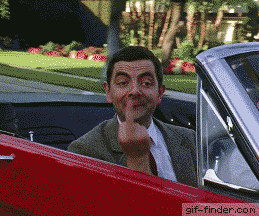 Confused punishment was something I had a hard time coping with just a few years ago, whereas now feeling… well.. like Mr.Bean does here. I ignore when not worth it, whereas other days… well… lets just say I can advocate for myself
 I am happy and I am free.
Confused Punishment: When you encounter poor treatment/further penalty based on the side effects of treatment/ medication/ physical or emotional stress from a Brain Tumour.
Examples
1. Dirty looks from strangers thinking you are drunk, when out learning to walk again, swerving.
2. Secretaries being personally offended/ blatantly rude if missed appointment, not realizing you forgot to write a reminder not to forget the appointment
3. Judging a RBF in social situations, when you are fighting a anxiety attack off inside
________________________________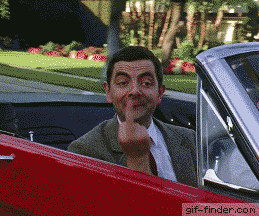 Seeing this gif. of Mr.Bean instantly makes me smile- admittedly I even giggle like a teenage girl- as it reminds me of my reaction to confused punishment these days. However, it wasn't always this way.  There were dozens of difficult moments when these instances happened- I guess you can say I have forced myself through this storm by turning my anger into determination. 5 years of determination to convalesce close to 90% makes me proud and strong of the accomplishments made, and-then-some. This wouldn't be possible to those who have supported me- people like you, who are reading this right now, thank you.