This morning I spent downtown for a 45 minute MRI, to explore cause for concern based on recent onset symptoms I've been having. Results TBA….
This is my life.
It was October 2011 when had emergency surgery to remove a Brain Tumour I didn't even realize I had. It took months to learn how to walk again and switched from being right to left handed- making playing guitar of 10+ years no longer possible. During surgery I had a stroke, effecting the left side of my body- fully functional yet permanently feeling colder only on that side. Oh, and chronic pain. Omg, the years of chronic debilitating pain.
A few years later, right after I released my book, Kevin Ker​ of Epidemic Music Group​ welcomed me with open arms to join the Markham Village Music Festival​ to set up shop beside the The North Stage​ to raffle off my beloved guitar… he did not ask for a nickel- rather, was shaken at the thought of instantly being unable to play- amongst other things. The draw raised $810 dollars, which went to local charity B-Strong and important Markham Arts Council. Little did I know about a year later the guitar was donated back to me from the winner, where I raised an incredible $1800 for the Brain Tumour Foundation of Canada after having full head and spine radiation.
Although there have been many dark moments these past 5+ years, the truth is there have been many, many moments which I'd call the best in my life (melissalnichols.ca… cue horn, "toot toot").
Fast forward to the present, where I am involved in this Guinness Record Attempt By Epidemic Music Group event as the Facebook coordinator. I love planning the event, building friendships with fellow positive people and making a difference, seeing as how its beneffiting 16 charities.
Attempted Guinness World Record to Break:

'Longest Concert Bt Multiple Artists'

March 17- April 2nd: 16 Charities, 24 hours, for 16 charities
Only surrounding myself with positive people, personal growth and FUN, I am having an incredible time running this Guinness Record Attempt By Epidemic Music Group​ Facebook page and participating in the planning committee! The committee is a productive ball of fun. (Pssst, volunteer! Contact Shaen Ar shaenvolunteer@gmail.com)
Enjoying moments every day, taking things day by day.
Aside from the fun, and thriving in the moment of this 16 day event- am looking forward to SUNDAY MARCH 26, as I proudly stand beside one of the 16 charities selected: Brain Tumour Foundation of Canada​.
<3
~ Melissa​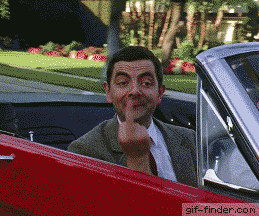 Confused punishment was something I had a hard time coping with just a few years ago, whereas now feeling… well.. like Mr.Bean does here. I ignore when not worth it, whereas other days… well… lets just say I can advocate for myself
 I am happy and I am free.
Confused Punishment: When you encounter poor treatment/further penalty based on the side effects of treatment/ medication/ physical or emotional stress from a Brain Tumour.
Examples
1. Dirty looks from strangers thinking you are drunk, when out learning to walk again, swerving.
2. Secretaries being personally offended/ blatantly rude if missed appointment, not realizing you forgot to write a reminder not to forget the appointment
3. Judging a RBF in social situations, when you are fighting a anxiety attack off inside
________________________________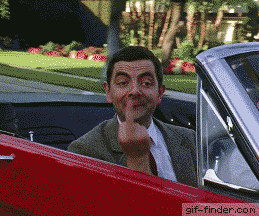 Seeing this gif. of Mr.Bean instantly makes me smile- admittedly I even giggle like a teenage girl- as it reminds me of my reaction to confused punishment these days. However, it wasn't always this way.  There were dozens of difficult moments when these instances happened- I guess you can say I have forced myself through this storm by turning my anger into determination. 5 years of determination to convalesce close to 90% makes me proud and strong of the accomplishments made, and-then-some. This wouldn't be possible to those who have supported me- people like you, who are reading this right now, thank you.
The best day this year was October 13, 2016 (click).
I spent my 5 year Brainniversary at Toronto's Princess Margaret Hospital- Brain Tumour Centre, giving out copies of Day By Day and homemade hats generously made and donated by friends, family and idea supporters of 'Hats for Hope' program.
Last week I received a note of thanks from the Program Coordinator of the Brain Tumour Center of Toronto's Princess Margaret Hospital.
Thank you to all who made/donated hats and to the Patient and to the Family Advisory Committee (PFAC) of Princess Margaret for adopting this idea and successfully rolling it out!
It is moments like this THIS that help me keep going, Day By Day.
~Melissa